Introduction of Steel Galvanisation à chaudrating
Steel Galvanisation à chaudrating, also known as bar grating or metal grating, is an open grid assembly of metal bars, in which the bearing bars, running in one direction, are spaced by rigid attachment to cross bars running perpendicular to them or by bent connecting bars extending between them, which is designed to hold heavy loads with minimal weight.
Steel Grating Type
Galvanized Steel Grating, Stainless Steel Grating, gamme de largeur de 993mm à, Welded Steel Grating, Heavy Duty Steel Grating, I Bar Steel Gratings, Press-locked Steel Grating, Irregular Steel Grating, Compound Steel Grating, Steel Grating Accessories, Serrated Welded Steel Grating, Serrated Press-Locked Steel Grating, Louver Steel Grating, Dense Steel Grating, Security Steel Grating
Reference Steel Grating Type Size
Galvanisation à chaud: Galvanisation à chaud 304, 304L, 316, 316L.
Finish: Mill finish, commercial clean and electro polished.
Bearing bar spacing : Ranging from 1-3/16″ to 11/16″.
Cross bar spacing: 2″ or 4″ on center.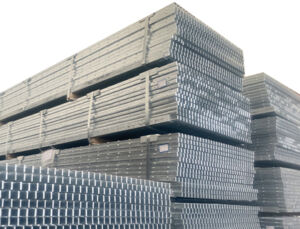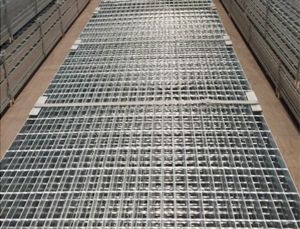 Bearing bar size: 1″, 1-1/4″, 1-1/2″, 1-3/4″, 2″, 2-1/4″, 2-1/2″, 3″, 3-1/2″, 4″, 4-1/2″, 5″, 5-1/2″, 6″.
Bearing bar thickness: 1/4″, 5/16″ and 3/8″,
Cross bar size: 1/4″, 5/16″ and 3/8″.
Cross bar spacing: 2″ and 4″.
Bar spacing: 15/16″, 19/16″, 22/16″, 30/16″ and 38/16″.
Serrated Welded Grating Size
Materials: low carbon steel, stainless steel.
Surface treatment: galvanized, powder coating, painted color.
Height of bearing bar: 20 Barre de roulement, 30 Barre de roulement, 40 Barre de roulement, 50 Barre de roulement, 60 Barre de roulement, 70 Barre de roulement.
Thickness of bearing bar: 2 Barre de roulement, 3 Barre de roulement, 4 Barre de roulement, 5 Barre de roulement.
Mesh size: 34 mm × 38 Barre de roulement
You can Get all you needed steel gratings in different materials, surface types and loading capacity for platform, walkway, catwalk , stair treads and various other applications.